AT NN Hotels, we pride ourselves on being able to offer all our guests a safe and secure stay. So we're working hard to exhaustively implement all of the safety measures necessary to give both our guests and our staff peace of mind and maximum comfort at our hotels.
We have resumed operations by centering our services around three core values: SAFETY, TRUST, and FLEXIBILITY.
SAFETY, to ensure a safe and pleasant stay:
Incorporating new protocols for hygiene and disinfection, welcoming guests through simple, safe, and streamlined check-in and check-out processes.
Reconfiguring safe social spaces so that all common areas comply with recommended social distancing guidelines, while still maintaining the warmth and comfort that characterizes our hotels.
Suspending all non-essential services, and regularly disinfecting all common spaces and high-touch areas.
Restructuring our restaurant, accepting dining reservations, and observing public health guidelines in dining areas.
Evaluating our progress on a regular basis. All our safety protocols are reviewed and updated on an ongoing basis by the Núñez i Navarro Safety and Prevention team.

TRUST, to come together safely:
Our staff is committed to maintaining the health and well-being of our guests throughout their stay, as well as our service providers and visitors. All employee uniforms now include protective gear like masks, gloves, and face coverings.
We have established rigorous training plans in both hygiene and personal safety, so that our staff is prepared to attend to the needs of our guests while following relevant safety guidelines.
We've placed signs in public areas and created information points in common spaces that clearly indicate social distancing guidelines, safety measures in place, and general best practices for limiting the spread of disease.
Our screening process for both staff and service providers has been updated to ensure that team members have met all standards and certification requirements for serving guests under these new circumstances.

FLEXIBILITY, to give our guests freedom and peace of mind:
We know that nowadays, it's hard to be certain of anything, and plans are changing constantly. So we've updated the terms of our Cancellation Policy in order to create more flexibility and offer guests more leeway when making or modifying reservations at NN Hotels.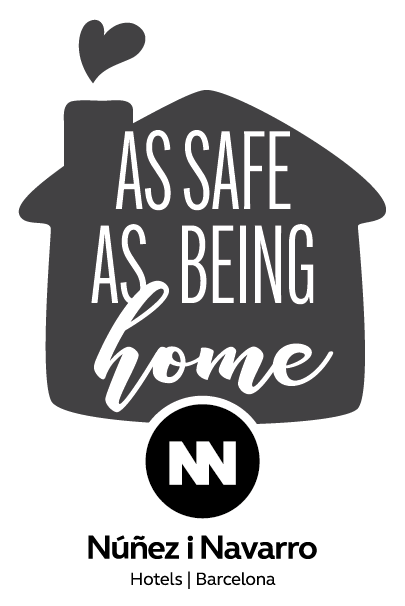 Our Occupational Risk Prevention department certifies compliance with the regulations issued by the Spanish Institute for Spanish Tourism Quality (ICTE) to prevent the spread of Covid-19.
The entire NN Hotels team is fully prepared and eager as ever to welcome guests back to our hotels. We look forward to sharing in your unforgettable memories of Barcelona, and enhancing your stay with our trademark charm and hospitality. We'll see you soon at your home away from home.